Tea towels are one of those things that I just adore! Something that is necessary and functional – to either wipe your hands OR wipe the dishes – can also be something pretty cute. Tea towels or kitchen towels do NOT need to be boring to do a good job! And, tea towels are always a practical little gift idea, too. They add a splash of colour to any kitchen, and a touch of fun.
So, when we found these adorable printed tea towels – we just had to share! Ramen lovers are sure to love these tea towels that feature bowl after bowl of ramen soup. If you need a gift for a ramen lover, well here you are and you can thank us later! 😉 Oh, and did I happen to mention that these are under ten bucks?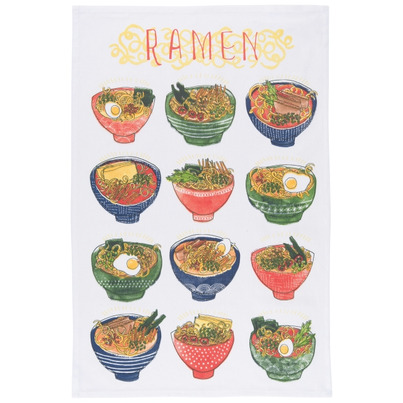 Now Designs Ramen Print Tea Towel
are a well made tea towel by Now Designs. (My favourite kitchen towel maker!) 100% cotton and nice and absorbent. Super cute ramen bowl design will please noodle soup lovers. $9.99 each
Now, when you slop your ramen soup, you can easily wipe up with this very appropriate tea towel! Remember a gift giving hint here too: A nice tea towel makes a perfect alternative to gift wrapping paper.
Disclosure: We use affiliate links. When you make a purchase through our links, we earn a small commission – which doesn't cost you a penny more! Thank you.