I have pie on the brain.
There, I admitted it. It might have something to do with currently reading the City Baker's Guide to Country Living. There is a LOT of delicious pie baking talk in that book, and I love every single crumbly bit of it! Or, of course, it might also have to do with these unusual circumstances we're living through, and being home a whole lot more. Therefore, more time to bake pie! And, obviously, eat pie. 🙂
Whatever my inspiration (or obssession! ha!) might stem from, today is the day of the homemade pie. I found some awesome new pie gadgets, beautiful pie dishes to display your homemade lovelies, and other pie related goodies that were too cute to ignore. Enjoy, and then – dig in!!
First Out Pie Spatula by Fox Run – Best Pie Spatula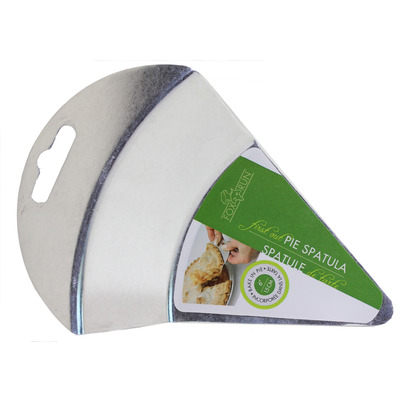 The First-Out Pie Spatula
is a wonder as far as I'm concerned! It is exactly the right shape and size to make an easy job of removing that first stubborn piece of pie. A little gadget that you'll use all the time if you love to make homemade pie. $14.23 CDN Please note that prices can change at any time, and price is current at time of writing.
Joseph Joseph Adjustable Rolling Pin for Even Pie Crusts

The Joseph Joseph Adjustable 16.5-Inch Rolling Pin is the solution if you have a hard time rolling out nice, even pie crusts. With silicone bands on either end, you can easily control exactly how thick your pastry will be! Also handy for rolling out perfect pizza crusts. $32.04 CDN at time of writing. (Please note that prices can change at any time.)

Blueberry Pie Tea Towels – Pie Theme Tea towels (hostess gift)
Blueberry Pie Kitchen Textiles – Kitchen Towels (20" x 28")
Add a splash of cute colour – and declare your love of pie! – with these adorable little tea towels. Nice idea for a hostess gift, too. $4.95 CDN
Ceramic Pie Weights

Mrs. Anderson's Baking Ceramic Pie Weights weigh down a bottom pie crust as you blind bake it, creating perfect pie crusts for single-crust pies or tarts. An ideal gift for someone who loves to bake pies, as you can never have too many pie weights! $7.99 CDN at time of writing, but please note that prices can change at any time.
Emile Henry Red Pie Dish – 10 inch large size pie dish

The Emile Henry 10 inch red pie plate is a beautiful and classic pie dish, by a French stoneware maker. This one will make your homemade pies look wonderful. Perfect if your favourite kitchen accent colour is red, as this is a gorgeous deep red. $54.28 CDN but please note that prices can change at any time.
Pie Crust Baking Shield – Prevents Burnt Crusts
Mrs. Anderson's Baking Pie Crust Shield, 10-Inch
This ingenious invention allows you to place this on top of your pie to protect the outer edges of the pie from burning. Fits a large 10-inch pie plate OR a smaller pie plate that has handles. $17.62 CDN at time of writing; prices can change at any time.
Today – pie. Tomorrow…who knows!? See what inspires us next by visiting often. And thanks for dropping pie. (Ha! See what I did there? Pie on the brain, indeed.) May you find inspiration to bake up something new and ooey-gooey good. And if there's a scoop of vanilla ice cream on top, well, that just about makes it perfect. 😉
Links are affiliate links – meaning that we get a small commission on your purchase, without any extra charge to you. Thanks!