Argon oil shampoo is excellent for adding lots of moisture to your hair, which is particularly helpful if you have naturally dry hair. Argan oil is derived from the argan nut of the argan tree, which grows in Morocco. That's why the original argan oil products were all labelled as Moroccan argan oil – that's where this stuff grows naturally!
The reason argan oil shampoo has become so incredibly popular is that it can add moisture to hair in a way that few other ingredients can. For centuries, people in Morocco ate argan oil, because it's not only got a delicious, mildly nutty taste, but it also has amazing health benefits! For your hair, though, you'll be able to tell a difference in the texture – argan oil can help to smooth out your hair. This is perfect if – like me – your hair tends to be a bit frizzy.
Argan (Argon) Oil shampoos available online
We've searched for some of the highest rated, and still reasonably priced Argan oil shampoos available online. When possible, we give you two different options of where to purchase, so that you can choose the retailer you'd prefer to support. Okay…happy shopping, y'all!
OGX Renewing Argan Oil of Morocco Shampoo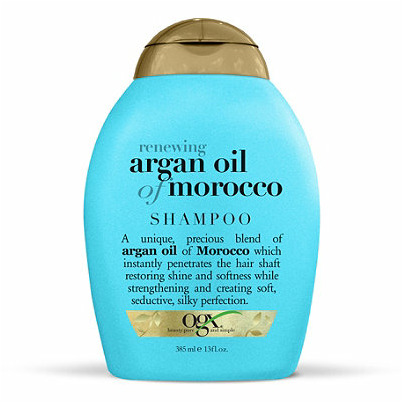 $11.29 @ Well.ca or $6.99 @ Amazon.ca; 385 ml bottle
A consistent best-selling shampoo, this one gets rave reviews from customers! This shampoo claims to help restore moisture and health to even the most dry, damaged hair.
Here's my favourite review: "Creamy shampoo that smells nice too. It made my hair silky and soft. Very nourishing for split ends."
Live Clean Argan Oil Restorative Shampoo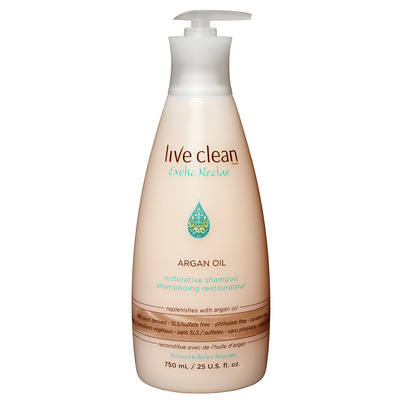 $13.99 @ Well.ca and on sale for $9.98 @ Amazon.ca (Regular price $12.49) – Family size bottle 750 ml
Excellent when used together with the matching conditioner to create softer, more manageable hair.
Nice light, natural scent that's a mild nutty scent – smells lovely.
No SLS in this product (sodium lauryl sulfate.) If you're trying to avoid this detergent ingredient, you can purchase this shampoo knowing there's no sulfate in it at all. (So, the shampoo will not lather up as much BUT your hair will get just as clean.)
If you're looking for an argan oil shampoo, then the two we've listed above come very highly recommended. You'll get an awesome new shampoo, and your hair will look moisturized and beautiful. Hooray for good hair days!
This post contains affiliate links, which means we may make a small commission on your purchase at no extra cost to you. Thanks.